Pathway HD ADA Wheelchair Ramps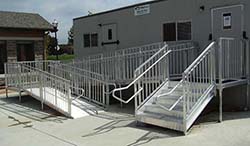 The Pathway HD Wheelchair Ramp system is ADA, OSHA and IBC2006 Code Compliant for business handicap access. This aluminum ramp system is easy to configure and has multiple platform sizes, ADA Compliant Stairs and is available with two-line or vertical picket handrails. The Pathway HD Ramps are easy to configure to meet your access needs. You won't find a more durable, permanent ADA Wheelchair Ramp solution for your business needs. Additional information on ADA Ramp Requirements We also carry residential wheelchair ramps.
Two-line or Vertical Picket Handicap Ramps
ADA compliant stairs available
Stamped Drawings Available for any State!

Pathway ADA Ramp Brochure

Pathway HD Specifications

ADA Ramp Instructions
Complete ADA Ramp Kits
Available up to 30 Feet long
Includes 5x5 top platform
Meets ADA Specifications & Guidelines
ADA, IBC & OSHA Compliance Aluminum Stairs
Available from 18" to 60" high
Office Metal Stairs for your business.