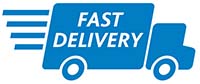 Free Shipping
Free standard (Estimated at 3-5 business days) shipping to the delivery address is included for all orders that are shipped within the Contiguous United States. Free shipping is not available for orders to Alaska or Hawaii. Smaller items ship via FedEx or UPS ground, while larger items ship via truck and may require a delivery appointment. Inclement weather and other factors may impact estimated delivery times.
Priority Shipping Upgrades
Priority shipping options may be available at an additional charge. Eligible products will show the priority shipping option (if available) during the checkout process on our website. We do not offer overnight shipping due to the extremely high cost.
Countries we Serve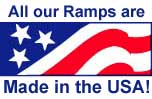 We only ship to addresses within the United States. Unfortunately, shipping to other countries has become too cost prohibitive to continue.
Delivery Time
We make every effort to process your order as promptly as possible. Most items ship within 1 business day from when you place an order. Packages usually arrive within 3-5 business days from the ship date. Delivery times can vary and are not guaranteed. Please order with sufficient time for delivery. Smaller items normally ship with Fedex Ground. Some larger items ship by common carrier (truck) and require a delivery appointment. (business days do not include, weekends or holidays)
Shipped Orders
Unfortunately, once an order has shipped, it cannot be changed. Shipped orders cannot be canceled and must be returned in accordance to our return policy. Return shipping is not included.