Metal Stairs and Office Steps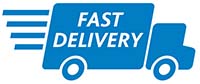 We carry a full line of aluminum stairs for all your home, office, job site or business needs.
Fortress OSHA Steps are easily portable or can be left in place as needed. Perfect for the jobsite or used for office trailer stairs and other applications.
Pathway HD Stairs are completely code compliant to meet your ADA compliance needs. They are made of durable aluminum construction and are perfect for most business stair needs. Easy to attach to an existing deck or with one of our platforms with railings. They are part of the Pathway HD ADA Ramp Access System.
Pathway 3G Adjustable Steps can be freestanding (with optional rear support legs), attach to most existing decks, or are made to integrate in with the Pathway 3G handicap ramp system.
3-4 Steps use from 23 to 34 inches
4-5 Steps use from 27.5 to 42.5 inches
Portable Office Stairs, Trailer Steps & more
Adjustable Metal Steps from 8" to 56".
Aluminum Stairs are easy to install.
Optional rear support legs for freestanding.
ADA, IBC & OSHA Compliance Aluminum Stairs
Available from 18" to 60" high
Office Metal Stairs for your business.