TRANSITIONS Beveled Rubber Threshold Ramps

ADA Wheelchair Threshold Ramps Slope Compliant
1.5" or 2.5" models & trim for custom fit.
Available in Black, Hazel Brown or Storm Grey colors
100% Recycled Rubber Wheelchair Ramps.
Non-skid surface on ADA ramps for indoor or outdoor use.
Support up to 850 lbs. & Free Shipping!

1.5" and 2.5" high TRANSITIONS Beveled Rubber Threshold Ramps

ADA Slope Compliant, Beveled Rubber Threshold Wheelchair & Scooter Ramps - Designed to meet ADA guidelines and specifications for doorways, curbs, door thresholds and raised landings to make entry and/or exit convenient, safe and ADA compliant handicap access. This ADA rubber ramp simply sits against the curb, step or door threshold (inside or outside) to provide a smooth ground to sill transition. The Rubber ramps are ideal for home or business use, indoor and outdoor use and because the rubber ramp is fully portable, it can be moved to another location if desired. These ADA rubber wheelchair ramps have beveled side edges and supports up to 850 lbs. Trim off the back of the rubber ramp to adjust the height of the ADA handicap rubber threshold ramps for a custom fit.
These ADA rubber threshold ramps are easy to install in just minutes! - Their free standing threshold ramp design provides a sturdy, secure rubber surface. These rubber curb ramps are constructed from 100% recycled tires and will not rust or corrode. ADA door threshold features a durable non-skid driving surface and is usable inside or out. This durable ADA handicap rubber threshold ramp comes with a Lifetime manufacturer's warranty and Free Shipping!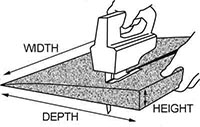 Trim Rubber Threshold Ramps - The ramps are made of rubber and are easily trimmed to any size less than the original size for an exact fit for your step or threshold.
Factory Direct Shipping - Most ADA Rubber Ramps ship the same day you order!