Portable Wheelchair Ramps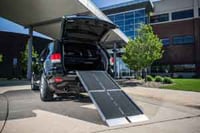 Are you looking for a sensible handicap ramp solution? Explore a diversity of mobile accessibility options that fulfill various handicap needs. Select one of our portable wheelchair ramps for sale to enjoy great benefits, such as increased comfort and a reasonable price. Moreover, our products provide complete safety and maneuvering ability. Steps, curbs, thresholds, entrances, and vehicles are no longer obstacles on your way with Express Ramps.
Find your best folding wheelchair ramp
We have a wide range of options suitable for general use or handicapped travel. They are all made of lightweight yet robust aluminum, making them easily transportable. Furthermore, unique materials ensure an excellent grip and high adaptability to slippery surfaces. With us, you can easily choose a ramp that will provide you with independent movements both indoors and outdoors. For your convenience, our assortment is brimming with the following products:

If you measure the total rise, use our ramp slope calculator to suggest the appropriate ramps to use for the vertical height that you need to climb. Check our website to find out more information about portable ramps for wheelchairs or ask us a question online. We're always standing by to assist you with any of your inquiries.