Pathway 3G Wheelchair Ramps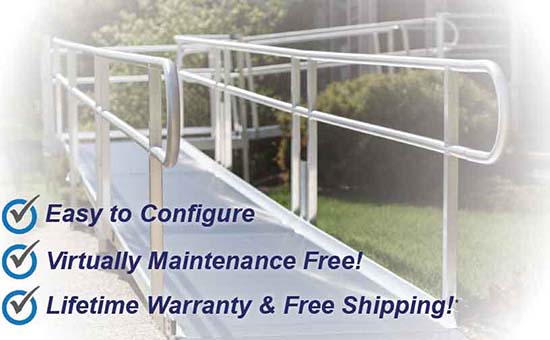 EZ-ACCESS Pathway 3G Wheelchair Ramp System.  This innovative modular wheelchair ramp system provides you with an easy to install handicap access solution for your home.  The modular design allows for easy customization for your wheelchair ramp needs.  The residential ramps, platforms and adjustable stairs are all come in a variety of sizes and options so you can easily configure the access ramp according to your handicap ramp needs.
We offer alternate configurations to meet your acccess needs. If you require a longer or alternate shaped ramp, please request our free ramp quote.



P3G SS
Wheelchair Ramps up to 30 feet long.

Kit comes complete with everything needed.

Easy to install handicap ramp access.
Pathway 3G Solo Ramp Kits are a quick, easy solution to your handicap acccess needs. These wheelchair ramp kits, come complete with everything needed to assemble the ramp. Most Pathway 3G Solo Ramps can be installed in as little as 30 minutes.

The kit includes:

Adjustable Metal Steps from 8" to 56".

Aluminum Stairs are easy to install.

Optional rear support legs for free standing.
Pathway 3G Adjustable Steps:

• Pathway® Stairs easy to adjust, reconfigure or move.
• Risers have a permanent non-skid surface.
• Porch, Deck or Trailers Stairs Install in Minutes!
• 36" wide and 850 lbs. weight capacity
• Our Aluminum Stairs are Made in the USA!
• Optional Rear Legs to make them free-standing!
• Free Ground Shipping!