Pathway 3G Wheelchair Ramps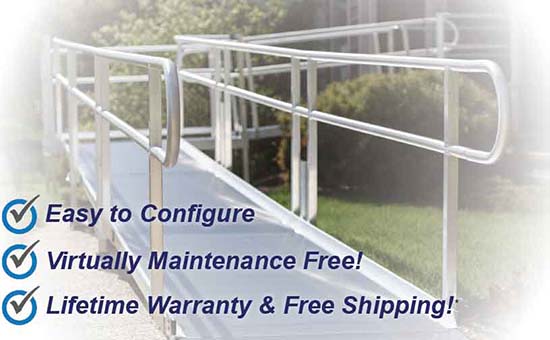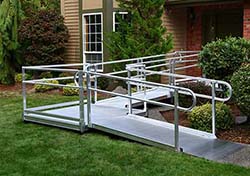 EZ-ACCESS Pathway 3G Wheelchair Ramp System.  This innovative modular wheelchair ramp system provides you with an easy to install handicap access solution for your home.  The modular design allows for easy customization for your wheelchair ramp needs.  The residential ramps, platforms and adjustable stairs are all come in a variety of sizes and options so you can easily configure the access ramp according to your handicap ramp needs.  We also carry ADA Compliant ramps for Business.
P3G SS
Wheelchair Ramps up to 30 feet long.
Kit comes complete with everything needed.
Easy to install handicap ramp access.
PSSP
Plaforms & Decks avaibile in 7 sizes.
Easily Integrates with Ramps & Stairs.
Adustable in Height.
PSS
Adjustable Metal Steps from 8" to 56".
Aluminum Stairs are easy to install.
Optional rear support legs for free standing.