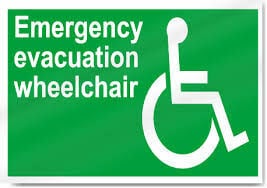 When a natural disaster or any emergency situation occurs, it is important to have planned ahead and be ready, especially, if you have a person with special needs in your family. We have put together this guide to help you before and during an urgent event.
General Tips
Keep phone numbers for Family, Friends, Doctors, Aides, etc. in waterproof bag.
Keep at least a 10 day supply of any prescription medications, over the counter medications and vitamins in waterproof bag.
Keep copies of any prescriptions, a list of allergies, a list of any dietary needs, a list of medications with dosages in waterproof bag.
Identify the closest shelters in case you need to leave your home.
Identify the closest medical centers to your home and shelters you may use.
Pack Eyeglasses, contacts, dentures, hearing aids with extra batteries in an emergency kit.
Wear Medical Alert tags or Bracelets.
Fully charge your Cell Phone and have an extra battery pack if possible.
Pack any medical devices, like a CPAP machine in a waterproof bag.
Make a plan for pets, including a note for first responders: I have a service animal named ______ who must evacuate with me.
Have a 10 day supply of food (non-refrigerated) and clean drinking water for each person in the home as well as pets

Tips for the physically challenged
Make sure any mobility devices that are electric have fully charged batteries.
Have a manual mobility device as a backup (transport chair, etc.)
Make sure to have a folding, portable wheelchair ramp for use at locations that may not be accessible.
Pack a cane or walker.
Pack an Emergency Supply bag attached to your wheelchair, walker or scooter.

Tips for the hard of hearing or deaf
Get a weather radio with Text Display & flashing alert.
Keep extra Hearing Aid Batteries in a waterproof bag.
Have access to TTY and/or VRS
Bring Pen and paper for communication with people who may not know sign language.

Tips for the Visually Impaired
Use braille labels for medications and other important items.
Keep pictures of loved ones or aides to make it easier for people to find them if you are separated from them.
Keep a deaf-blind or braille communication device in your emergency pack.
Practice your evacuation plan to a family meeting point to become comfortable with finding it.