Express Ramps - The Wheelchair Ramp Experts
Portable wheelchair ramps for your home, school, or business from Express Ramps
If you are disabled, you need a safe way to get into your home, and if you own a business, church, or any other organization serving the public, you need a way to give as many people as possible a safe way to enter its premises. Express Ramps provides permanent or portable handicap ramps that are safe and include factory direct shipped to your location.
Why you should get a wheelchair ramp for your home?
There are many reasons why some people are unable to get into their homes. Some suffer accidents that leave them temporarily disabled, while others are born with disabilities that impede their abilities to get around. Senior citizens become frailer with age and would like to age in place. If you are permanently or temporarily disabled, and you live in a home or apartment you have difficulty getting into, we sell portable ramps for homes that will make your life easier. Here are some of the options available for our customers: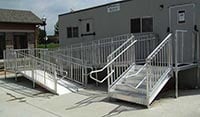 ADA wheelchair access ramps for schools, churches and businesses.
The Americans with Disabilities Act (ADA) regulations require that businesses, schools, and virtually all other public and private organizations, must make reasonable accommodations to grant disabled people access to their establishments. We can help you meet ADA guidelines by providing you with:
With these access options, your organization can be ADA compliant, allowing you to serve Americans with disabilities more efficiently. We can have your ADA ramp code compliant and ready quickly with our fast-free shipping. Order wheelchair ramps for your home or business today!